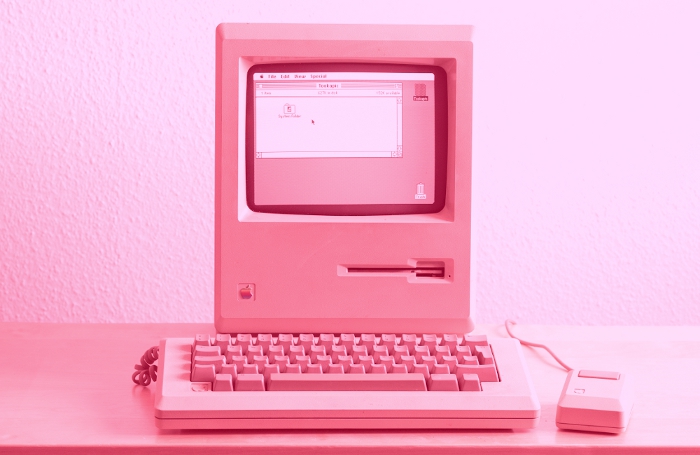 Helping hand is a series of blog posts aimed at helping you to better understand concepts that you perhaps thought were complicated before.
Today's post: helping you to understand I.T. words and terms you might have seen either on your phone or computer.
Have you ever seen a word like 'cache' or 'malware' and had no idea what it meant? What about phrases like 'storage capacity' or 'cloud storage'? You see these words everywhere, but it's easy to misunderstand them when they're explained to you by someone who uses them on a daily basis and doesn't see them as complicated things at all. But what do you actually need to know? If you're here, I'm assuming you're not an I.T. expert, just someone who'd like to better understand the tech in their pocket, and that's exactly what we're going to talk about.
So without further ado, here are some simple definitions of scary-sounding I.T. terms, that will hopefully help you out.
Cache
You've probably seen this word when you had a closer look at your web browser (Firefox, Chrome, those things). The cache stores things you've already accessed so that it can be faster when you try to get that same thing later. A very simple example would be a logo on a website. If you look at a lot of different pages on a website, it would be silly to re-download the same image over and over again every single time. So the cache stores the logo, so that you don't have to do that every single time. Which is great! The only problem is that over time, the cache gets bigger and bigger as you access more and more things. So it's worth it to clear your cache every once in a while, especially if you often get error messages about not having very much space on your phone/laptop/PC/etc.
Short version: the cache stores things you already accessed in order to speed things up for you next time.
Malware
Malware is short for 'malicious software', which already sounds ominous, and rightly so. Malware is any kind of software designed to do something bad to a system. There are lots of different types, some of them more dangerous than others. You've probably heard of 'viruses'. Like viruses that infect the human body, computer viruses get on to a system in order to wreak all kinds of havoc, from creating or erasing files to ruining your computer's memory. Viruses are usually spread through infected e-mails, so always be cautious when opening files you've been sent. Other kinds of malware include spyware and trojan horses. Spyware, as the name suggests, spies on whoever is using the computer. It can steal passwords, e-mails, and credit card information. Trojan horses are not only large wooden horses given as gifts from the Greeks – they're also dangerous software. As you probably guessed, trojan horses pretend to be a different, harmless program, right up until you install them – and that's when all hell breaks lose. Because of all these dangerous kinds of malware, it's very important to install a good anti-virus program (popular choices include AVG, Avast, and Norton).
Short version: malware is malicious software – there are lots of different kinds, but all of them are dangerous, and that's why you need a good anti-virus program.
Storage capacity
This is a very simple concept – storage capacity is how much storage a storage device (hard drive, USB drive, SD card) can offer you. This is usually written down in MB (megabyte) or GB (gigabyte). It's sometimes referred to as 'disk space', even though storage capacity is the whole thing, and disk space is just how much space is left. To help you understand how big something is when its size is given in MB or GB, a 3 minute song is usually 3 MB, though this may vary depending on length and quality of the song (sound quality, not how good the music itself is) and a film is around 1 GB. There are 1000 MB in 1 GB.
Short version: all the space on your storage device (hard drive, USB drive, SD card)
Cloud storage
In the simplest terms, cloud storage is when your files and information aren't stored locally (meaning, on your own computer) but in 'the cloud'. What that means is that someone else, usually a hosting company, owns servers that store all the information they get sent. The benefit to you is that you don't have to remember to put your documents on your tablet or USB drive when you go travelling – you just make sure to save it to the cloud and then with your login information you can access it from anywhere. Sounds amazing, right? Well, it has some drawbacks too. Hackers often target these clouds, because of how much information they store. Instead of having to hack people one by one, they hack the cloud and can then access everybody's files. So it's important to be cautious.
Short version: files are stored on servers owned by a host ('in the cloud') and can then be accessed from everywhere.
Error 404
This is something you've almost definitely seen at least once. This is the error code that comes up when a page on a website can't be found. The website is up and running, the server that the website is on is okay, but the page itself is… not there. This usually happens when you type in a URL (the thing that starts with http:// or www.) by hand and make a mistake with one of the words. Or someone was lazy with their website upkeep and forgot to fix a broken link.
Short version: the page you're trying to see wasn't found by the website.
Peripheral
A fancy word with a simple meaning. A peripheral is anything that works as an input or output. A simple example of an output peripheral is a monitor (screen), and input peripherals are usually computer mice and keyboards. It's output because it's giving you the information, and the input is input because you're the one giving some kind of information to the computer. It's only a little bit confusing when we think about external hard drives, because they're both inputs and outputs, but people don't usually refer to them as peripherals anyway.  See? Not so scary now.
Short version: there are two kinds of peripherals, input (mouse/keyboard) and output (monitor/screen).